One of the greatest harness pacers to come out of Kentuckiana Lodge amazingly won his 48th career race on Tuesday night at Yonkers Raceway in New York.
That horse, Christen Me.
The now 13yo down under pacer saluted the winning judge in a time of 1:54.1 around the half-mile (800m) racetrack of Yonkers.
His current trainer is Scott Di Domenico who had driver George Brennan in the race bike.
The son of Christen Cullen showed early speed from the two-hole to find the lead and stay there throughout the journey. He then kicked clear in the stretch and held off challenges from another down under pacer in Campora A who finished in second place.
This pacing superstar made a name for himself when racing for the Kentuckiana Lodge stable. Being trained by Cran and driven by the talented Dexter Dunn throughout his career wearing the maroon and white diamonds.
During his seven-year New Zealand racing career, he made regular trips to Australia to compete in the feature grand circuit races.
Christen Me has one of the most impressive CVs in Australasian racing history.
One of his most notable wins was in the Miracle Mile in New South Wales, where he paced 1:49.1 for the 1609m.
He also won a stunning edition of the Hunter Cup in Victoria which was run over 3280m.
Proving just how freakish he just was to win two of Australasians biggest races. One showing a dazzling turn of speed over the 1609m and another showing pure toughness to win over 3280m.
Some of his other exceptional wins were in the Auckland Cup, Victoria Cup, NZ Free For All, Easter Cup, Harness Jewels, Chariots Of Fire and many more.
When discussing Christen Me's career Cran says, "He was simply a freak horse, the speed he had was like nothing I've never felt before".
"He took us to a lot of great places in New Zealand and Australia. Some of his big wins such as the Miricle Mile, Hunter and Victoria Cups, NZ Free For All, Chariots of Fire are career highlights for me. But one that I really loved was the Auckland Cup, that was a thrilling race.".
While achieving all of this he was crowned Australasian Grand Circuit Pacer of the year in 2013 and 2014 and New Zealand Horse of the year in 2014 and 2015.
Astonishingly his career stake earnings are currently sitting at over $2.8 million, meaning he is closing on the remarkable feat of $3 million in career prize money.
A true champion in many eyes and especially at Kentuckiana Lodge.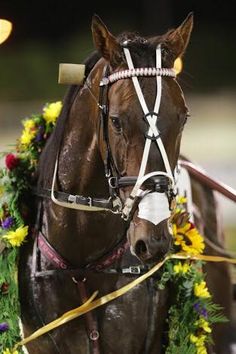 Carter Dalgety