The real Republican Party stood up and delivered a powerful win for Kentuckiana Lodge at Rangiora on Sunday.
Heading into the event, trainers Cran and Chrissie Dalgety had been on record more than once this season saying what high regard they hold the colt in.
But run of horror circumstances has meant it has taken until Sunday's meeting for Republican Party's class to be seen at the races.
"It was a bit of relief that the owners were able to see him win like that," Cran said.
"I have been telling them for months that I think he is in the well above average category, but the way things have turned out we haven't been in a position to show it."
Those owners include Grant Dickey, Ken Cummings, Gary Merlo, Julie Rooney, Greg Ayers, David Schollum, Bernard Smith, the First Term Syndicate and the A & M Syndicate.
When being set for the Young Guns Series the colt went through a growth spurt and was turned out.
When back in work and looking ready to race the pacer then caught a bug on his recent trip to Invercargill in which he ran fifth on debut in the Group 2 Diamond Creek Farm Classic.
"They say racing is all about timing and the timing has been all wrong for this guy this season."
"We were looking great until he got to Invercargill and they ran a national record and he pulled up with a few sniffles."
"That has put us on the back foot leading into the big races which all come in a very short space of time."
"We would have preferred to be going around in the Sires Stakes on Friday night but it made a lot more sense for the horse to head to Rangiora today."
"And it was very pleasing to see him do what we knew he could do."
"That win will do wonders for his confidence as we aim him towards the races we think he is good enough for."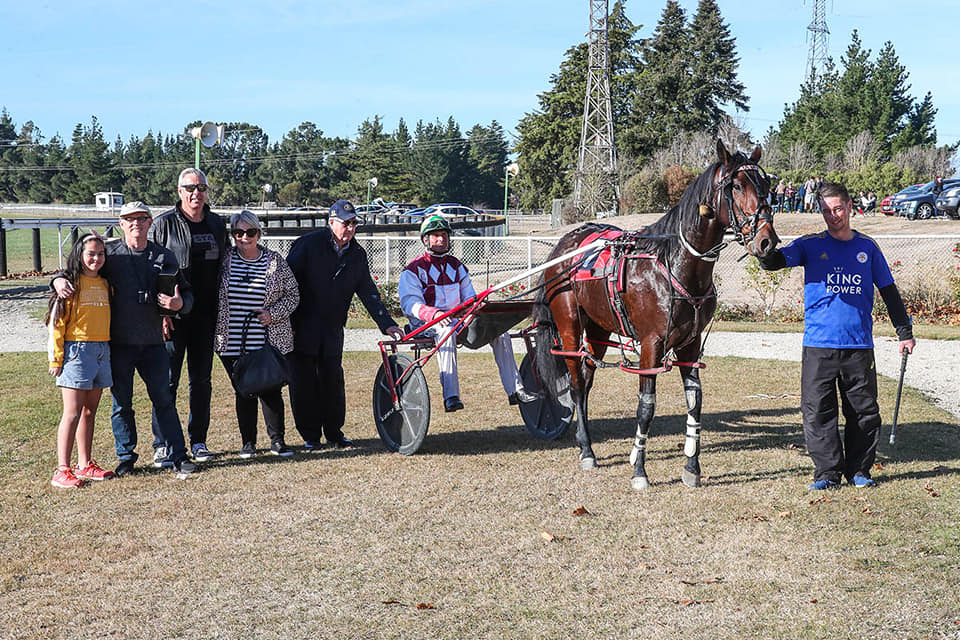 Sunday's win put Republican Party on the verge of Harness Jewels contention.
Immediately after the race the Kentuckiana Lodge team were leaning towards bypassing the Jewels and spelling the colt ahead of what is set to be a huge three-year-old season.
"It is certainly tempting to go to Cambridge and we do think he is good enough to compete," Cran said.
"But at this stage we are thinking we will put him aside and focus on the Sires Stakes Series in the new season."
"The benefit there is he will get extra time to thrive ahead of what will be a long three-year-old season."
"We want to be in all the derbies and taking on the big boys so a good spell will set him up nicely."
"The other thing in the back of my mind is that I have always thought he would make a better three-year-old."
"The owners have been patient and I think if we are patient a little bit longer we will get the rewards."
Perfectly handled by Blair Orange, Republican Party stopped the clock in a slick 1.57.6 mile rate in his 2000m maiden victory.
by Jonny Turner.