With her career already on a massive upswing, Sarah O'Reilly's star continued to rise when she won the New Zealand Junior Drivers Championship at Addington on Sunday.

O'Reilly went into the final day of the five-race series in third position before icing her second win in the competition by taking out two of its final three heats.

The 21-year-old didn't leave her championship run to chance, taking charge in both of her victories on Sunday by sending her winners Tequila Sunset and I'm Tough to the front in the early stages of their heats.
O'Reilly has made giant strides in her career this season with 55 wins, more than the tally from her three previous seasons.
The junior driver has been in especially rare form recently, scoring a hat-trick on Sunday with her victory outside the championship with Shards In Manhattan.
When pressed to explain what she puts her hot form in the sulky down to the humble O'Reilly said it was her confidence.
Anyone who saw her assertive drives on Sunday could hardly disagree.
"I don't really know what it is, maybe I have just gotten a lot of confidence from driving around the country in different situations," O'Reilly said.
"Now it comes easier to me, I guess you could say."
"You get a lot more confidence with every drive, you need a lot of experience."
From barrier 8 in race 5, the last heat of the championship, He's Tough looked to be in need of a little bit of luck to win.
But O'Reilly took luck right out of the equation when pressing forward and finding the lead after 400m.
"I didn't realise the horse was going to go that good, I didn't really have a plan going into that race," O'Reilly said.
"I was just going to drive it as I saw it, I didn't want to be at the back of the field."
"I thought I would mooch forward and it worked out well for him."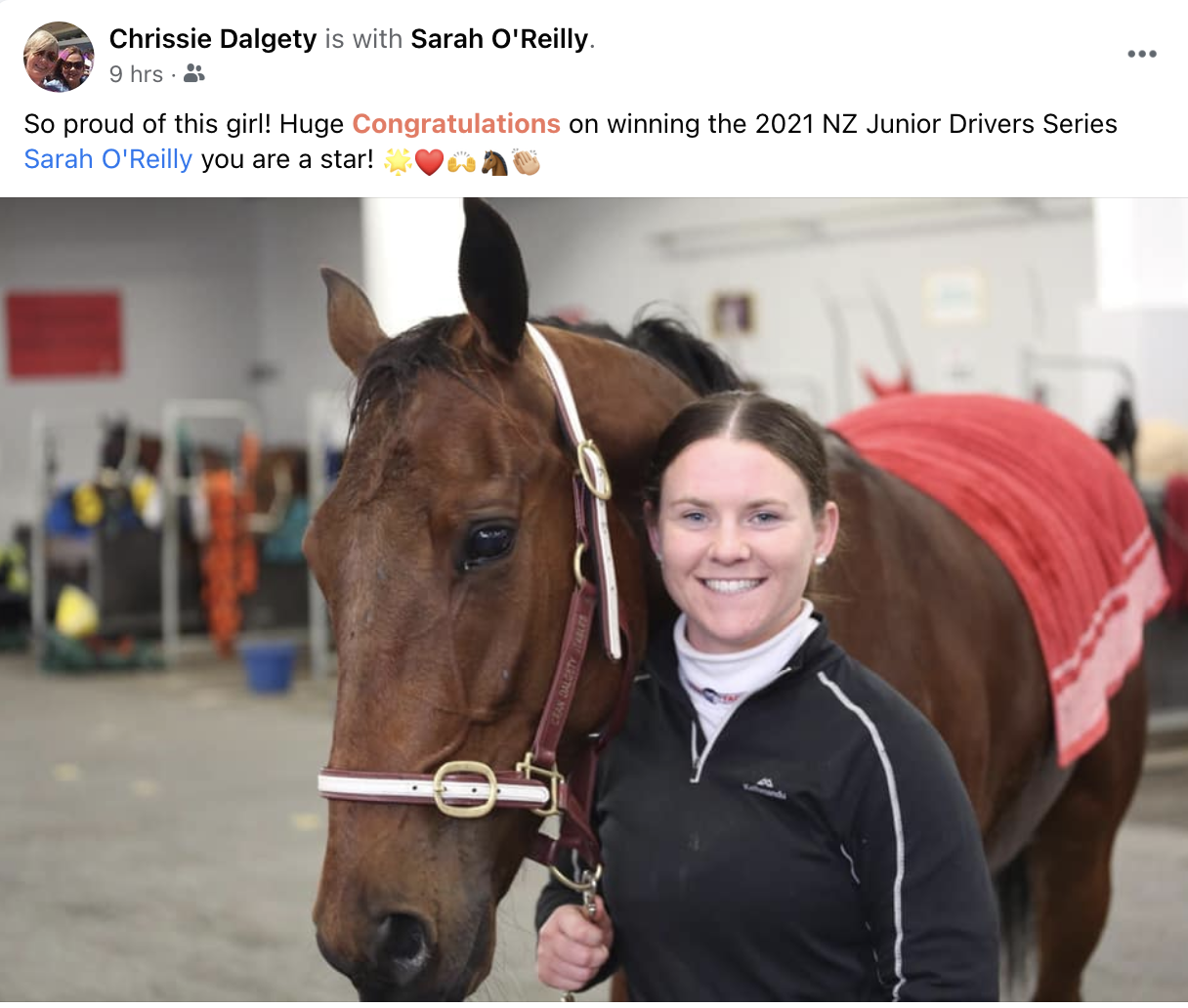 After finding a sweet spot in the trail in race 2, Sunday's first heat, O'Reilly was quickly out and around to the front.
The reinswoman rated the seven-year-old perfectly thereafter and set up what would turn out to be her championship-winning run.
"She went well, she got a good trip and everything worked out for her."
"She still had to do it and she went really well."
O'Reilly went on to make it win number two in the New Zealand Junior Drivers Championship in just her third attempt and naturally, she was thrilled with the result.
The reinswoman's three wins on Sunday put her on 55 wins for the season, four wins behind Junior Drivers Premiership leader John Morrison (59).
O'Reilly has a chance of winning the national title but must produce more outstanding results to reel in her fellow Cantabrian.
"There are only about three meetings left, but the lead is down to four which is probably the closest I have actually been to Johnny," O'Reilly said.
"It won't be easy but I will be giving it my best."
O'Reilly's win with Shards Of Manhattan prior to her championship victory handed trainer Cran Dalgety his 1300th career victory in New Zealand.
The junior driver was thrilled that she could help her boss notch the milestone.
"I didn't realise that was Cran's 1300th win until afterwards, it is a great achievement, it is a lot of winners."
Dalgety has the fifth most wins of any trainer in New Zealand's history behind Barry Purdon (2563), Mark Purdon (2364), Roy Purdon (2020) and Robert Dunn (1695).

By Jonny Turner