Kentuckiana Lodge Purchased and Raced Pacer wins 10 years on from his Debut.
Former Kentuckiana Lodge pacer Heez Orl Black (named in NZ Orl Black) won a race in North America this week, 10 years after his debut racing win in New Zealand.
Astonishingly the now 13yo Down under pacer was the winner of race number 2 on Sunday at Pocono in Pennsylvania, USA.
He paced a winning mile of 1:56.0 around the 1000m (5/8 miles) racetrack.
It was a completive finish with him showing his true determination like he has always had and out finished another former down under pacer in the 12yo Highview Conall N.
An awesome result to see two down under pacers quinella a race at ages 12 and 13 respectively.
The win was a significant one for Heez Orl Black N as it was 10 years and two months since he won his first-ever race in February of 2011 in New Zealand. That very race he was trained by Kentuckiana Lodge trainer Cran Dalgety and was driven by the one and only Dexter Dunn.
That race being the Group 3 2yo Kindergarten Stakes, where he paced a winning mile in 1:58.0 and ripped home in a slick 56.8 and 26.8 around the Wyndham Racetrack.
The son of In The Pocket then went on to win six races and over $115,000 in the maroon and white silks. The highlight of his time at Kentuckiana Lodge was when he won the Group 1 2yo Welcome Stakes in April of 2011.
Interestingly in that race he beat home two other Cran Dalgety trained runners, one being Texican who went on to win the Group 1 New Zealand Sires Stakes Final and over $1 million dollars. The next was Superstar pacer Christen Me, who has one of the most impressive CVs in New Zealand racing history. Including winning the Miracle Mile, Auckland Cup, Hunter Cup, Victoria Cup, NZ Free For All, Chariots Of Fire and many more.
Heez Orl Black was then exported to Australia in February of 2013, where he raced for the next 19 months.
In his Australian racing career, he won 9 races and was placed at listed level.
His next stop was to the USA in November of 2014 where he remains now and has had an extremely successful career.
This is a true credit to all horse people involved with this horse in the good management and care.
Below is Heez Orl Black in his American Stable.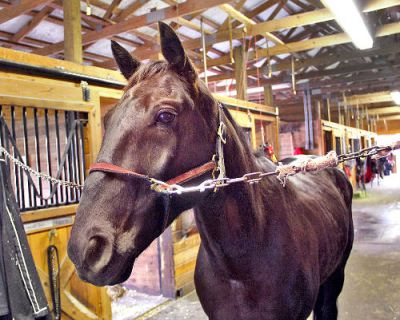 Carter Dalgety